Suites
The Deluxe Rooms and Suites are synonymous with conviviality.
Living room, balcony and private terrace, all our Suites have large living areas adjacent to the room. The Barn is a place of freedom but also of gathering. Its Suites have been created with the desire to meet everyone's need for space and privacy.

Deluxe rooms
Deluxe rooms feature a private balcony overlooking the forest. This is an ideal place to admire the horses and the large meadows punctuated by narrow, mowed paths. These rooms are a true compendium of what the Barn is all about: a plural place where the inside extends the outside – and vice versa. A warm, intimate and friendly place.
Installations
Furniture designed by the Be-Pôles studio
Tableware for your freedom
Murals designed and imagined by the studio Be-Pôles
Works of art designed for the hotel
Minibar offering a selection of drinks
Down feather pillows
Curtains made of Barbour fabric
Bed linen 100% Egyptian cotton mercerised in satin (400 threads)
Selection of natural eucalyptus-based welcome products
Communicating rooms on request
Carpet flooring
Phone
Television 32 to 43 inches
Wifi
Heating
24-hour luggage service
Room service
Alarm clock service
Capacity from 1 to 2 people
A convertible sofa for a child under the age of 12 years at an extra charge.
Twin or double bed
Private bathroom with
Shower or bath room
Shower or bathtub
Hair dryer
Room size
28 to 30 sq.m.
ou .
book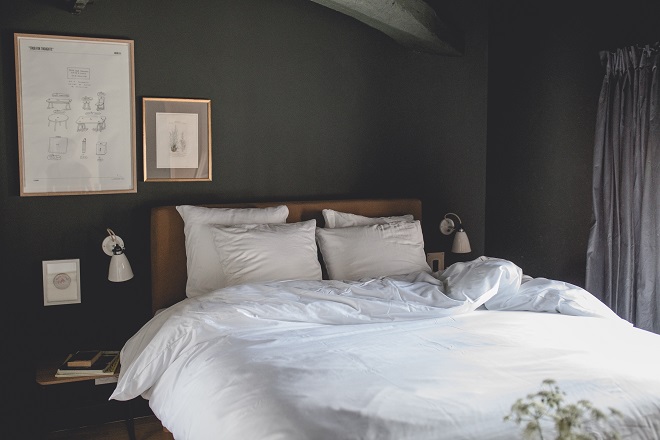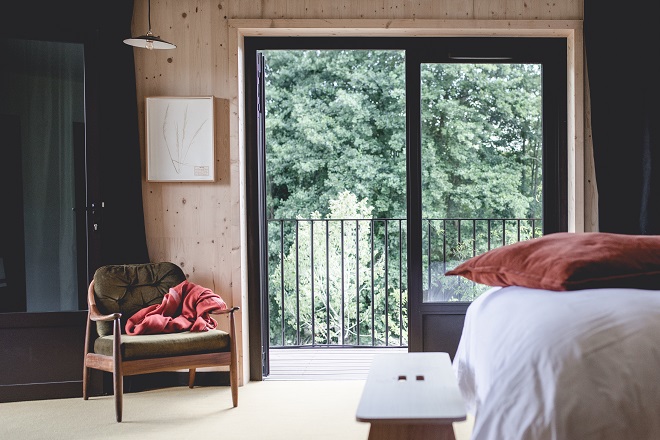 Suite Moulin
As its name suggests, this very beautiful Suite is installed in the old watermill that once dominated the Gloriette river. Exposed beams and through light are the characteristics of this atypical suite. Away from the barns, the Mill Suite now gives the feeling of living at its own pace.
Installations
Furniture designed by the Be-Pôles studio
Tableware for your freedom
Murals designed and imagined by the studio Be-Pôles
Works of art designed for the hotel
Minibar offering a selection of drinks
Down feather pillows
Curtains made of Barbour fabric
Bed linen 100% Egyptian cotton mercerised in satin (400 threads)
Selection of natural eucalyptus-based welcome products
Private terrace
100% cotton bathrobes
Parquet flooring
Phone
43-inch television
Wifi
Heating
24-hour luggage service
Room service
Alarm clock service
Capacity from 1 to 2 people
A convertible sofa for a child under the age of 12 years at an extra charge.
Double bed
Private bathroom with
Bathroom
Bathtub
Hair dryer
Room size
45 m²
Book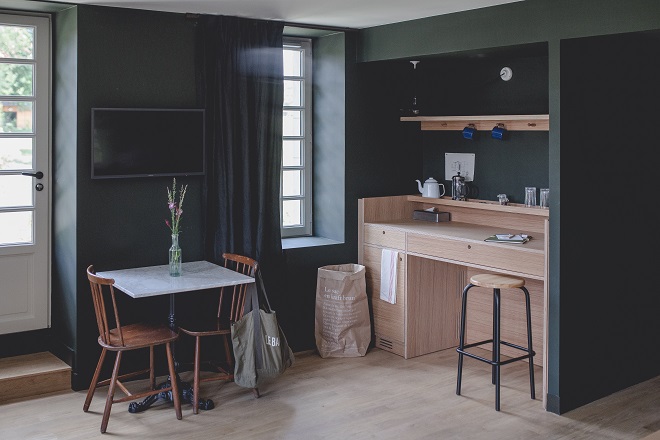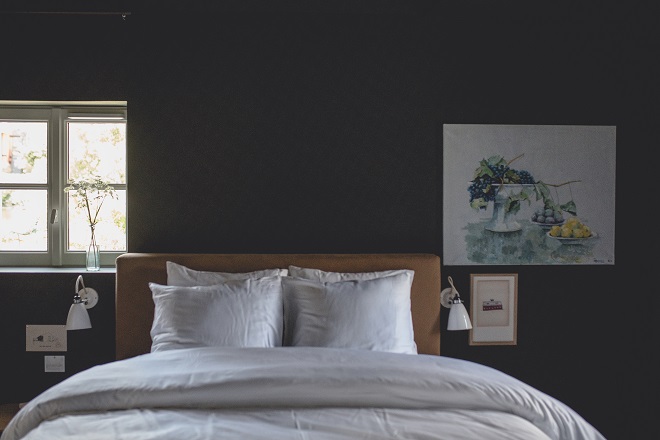 Suite Le Barn
Staying in Le Barn Suite, the largest suite in the hotel, is like living a little out of this world. Alone, with your tribe or among colleagues, enjoying a spacious dining room and a terrace wide open onto the paddocks. You can get to know nature with horses and the vast plains for neighbours…
Installations
Furniture designed by the Be-Pôles studio
Tableware for your freedom
Murals designed and imagined by the studio Be-Pôles
Works of art designed for the hotel
Minibar offering a selection of drinks
Down feather pillows
Curtains made of Barbour fabric
Bed linen 100% Egyptian cotton mercerised in satin (400 threads)
Selection of natural eucalyptus-based welcome products
Private terrace
Parquet flooring
Phone
49-inch television
Wifi
Heating
24-hour luggage service
Room service
Alarm clock service
Capacity from 1 to 2 people
A convertible sofa for a child under the age of 12 years at an extra charge.
Double bed
Private bathroom with
Bathroom
Bathtub
Hair dryer
Room size
55 m²
Book
*Only for this room